CAMPSITE NEAR BIARRITZ
Campsite at 20min from Biarritz
Biarritz, 20mn from Suhiberry Camping
A LITTLE HISTORY TO UNDERSTAND THE NOTORITY OF THIS ATTRACTIVE AND PILATED CITY AT 20MN FROM THE CAMPING SUHIBERRY…At 20 mn from the Camping Urrugne SUHIBERRY you will be able to discover Biarritz, emblematic and luxurious seaside resort of the Basque Coast on which floats a rich perfume of an aristocratic past provided.
Vacations in Biarritz
While Biarritz was first a whale fishing port, as evidenced by its famous "Port Vieux", the town experienced an economic boom in the 19th century. Napoleon III and the Empress Eugenie made it their vacation spot. This is how Biarritz became the seaside resort frequented by the entire European aristocracy. The first golf course in Biarritz, the Golf du Phare and the first horse shows are the heritage of the rich English.
Tourist activities in Biarritz
These activities continue and even today the economy remains focused on tourism with the luxury hotel industry, personal care (Thalasso) and aquatic leisure activities with scuba diving and the advent of surfing.
Biarritz in the Basque Country attracts you by its Great Beach which extends from the Hotel du Palais to the Grand Casino.
The spectacle of the ocean and its powerful waves breaking on the beach of the "Côte des Basques" or on the mythical "Rocher de la Vierge", delights all local walkers or tourists.
The Museum of the Sea and the Cité de l'Océan with their huge aquariums show you the ocean in all its forms.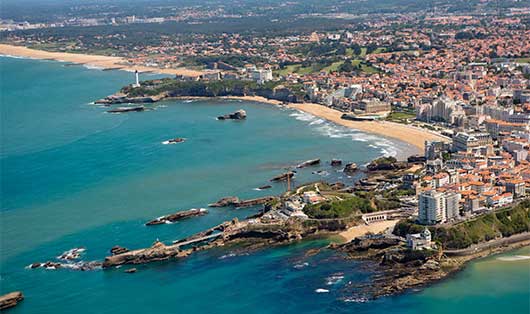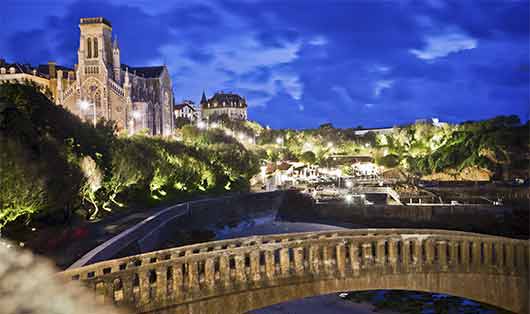 The seabed, the role of the sea in the formation of the continents and the settlement of the waters will "almost" no longer hold any secrets for you!
Finally, to really taste the atmosphere of Biarritz, a detour to the night market in the Halles district on Wednesday evenings is a must during your vacations in the Basque Country!
Other towns in the Basque Country to discover:
Hendaye
Saint Jean de Luz
Socoa
Urrugne
Ciboure
Découvrez nos autres conseils de visites et activités pour vos vacances