Fun and sports activities
Spend a relaxing vacation in a park equipped with various playgrounds in a natural setting!
the campsite suhiberry in the basque country, they are small pleasures to share in family or between friends!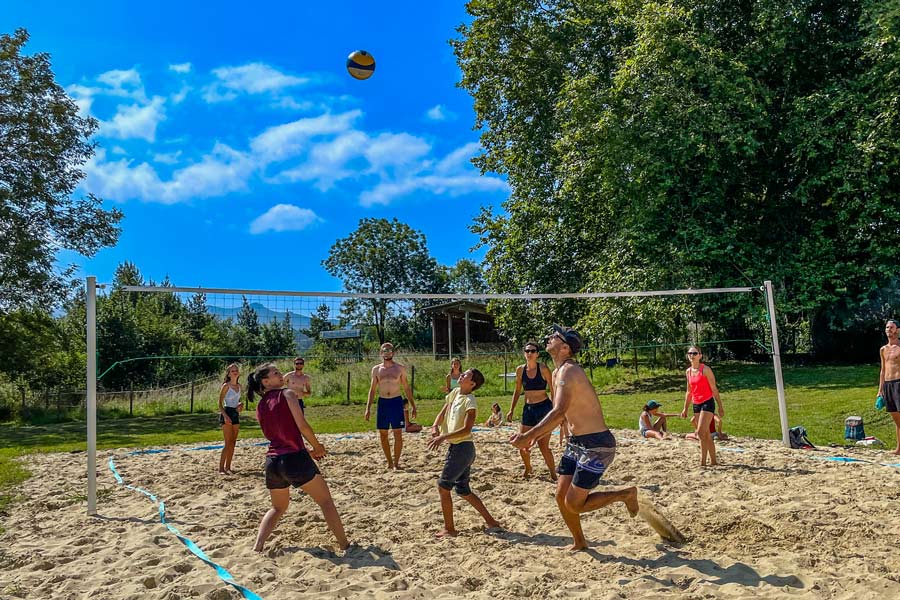 relaxation… in a family campsite by nature.
And it's off to the Playground for kids looking for buddies with their big brother or sister while their parents take a nap!
The outdoor playground will satisfy their first desire for adventure: spinning wheel, swings, bumper cars, roostersand the first sensations of sliding on a slide, a varied play area for the greatest happiness of the little ones!
A bouncy castle in the summer to entertain your children with rich imaginations always ready to spend!
Fishing, the river passes at the edge of the campsite. Fishing rods are waiting for you at the reception !
Petanque, a ready-made field near the animal pen, a quiet place, ideal to choose the winner for the dishes or the invitation to the aperitif… so pointers and shooters be precise!
Musical and dance evenings for all! Come to dance and sing… And why not in Basque!

SPORT SIDE… BETWEEN RESTING, VISITING AND LAZING AROUND, LEAVE YOURSELF SOME TIME FOR SPORTS! IT WILL DO YOU A LOT OF GOOD!
Basketballgames, soccertournaments, volleyball, badminton.
Thetennis court, which often gathers all generations, with regulars of the court who do not hesitate to share their experience with young people, always in the family spirit of the campsite.
A beautiful fronton(large wall) to initiate you to the pala(wooden racket) or to the naked hand, two specialities ofBasque pelota renowned in the interior of the country as on the Basque coast! You will easily take to the game!

Go hiking from the campsite Suhiberry, for the Sea or the Mountain, we will show you little known paths.
Discover the other services and animations of our campsite in the Basque Country