CAMPSITE near HENDAYE
Campsite at 7km from Hendaye
Are you looking for a camping Hendaye?
Located in Urrugne near the Spanish border, the Hendaye campsite offers quality accommodation, a heated aquatic area as well as activities for the pleasure of the whole family.
Saint Jean de Luz is a city open to the ocean at 7km from the Urrugne campsite.
Tourism in Hendaye
A few steps from Spain, a quarter of an hour from the Basque coast campsite, Hendaye is a seaside resort renowned for its nautical base and its long fine sandy beach on the Basque coast. It is the ideal beach for learning to surf because it is one of the safest in the region.
We advise you to go for a walk with your feet in the water in the early morning or in the evening because the beach is very suitable for this. At dawn or in the evening when the colors of the sky are particularly beautiful, the panorama on the rocks of the Two Twins and on the mountain of Jaizkibel is unique!
During the day, you can also indulge in all the water sports activities: diving, jet-skiing, surfing or sea kayaking… as well as boating activities: sailing trips, coastal cruises…
What to see and do in Hendaye?
Hendaye is also a very beautiful pedestrian and cycling paseo along the pier, which starts from the Abadia castle on the cornice, a very nice estate to visit from the inside as well as from the outside, and which goes along the beach passing by the marina, the bay of Txingudi, overhung by the mountain of Jaizkibel. A large playground with slides is available for all children up to 12 years old. Next door, a skate park and a mogul track provide fun for teenagers and adults.
If you are a hiker, this long pedestrian and bicycle ride of almost ten kilometers can lead you to the Spanish Basque towns. Sports and cultural activities are offered free of charge every day for families.
Finally, the city is turned towards the Spanish Basque Country: Donostia-San Sebastian, European capital of culture in 2016, is only 20 minutes away; Bilbao and the Guggenheim museum at 1h15; as well as many typical villages, on the road to Pamplona/Iruña, very nice to visit like Bera, Elizondo…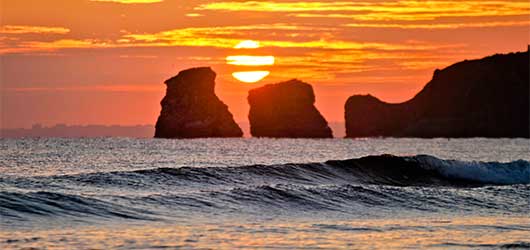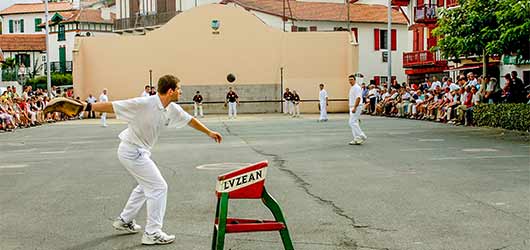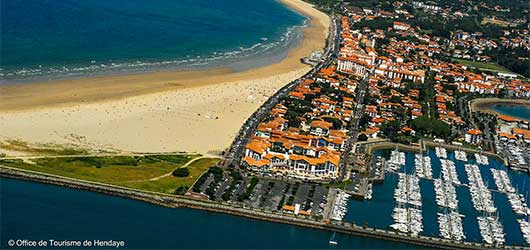 Hendaye : the essentials
Do not miss the good plan from the marina of Hendaye: take the maritime shuttle which in 5 minutes of crossing leads you on the paseo of Hondarribia/Fontarrabia. A change of scenery is guaranteed! Indeed, the houses with colored facades typical of the Basque fishermen and the alleys animated by the local population which meets a lot outside, will embark you in a festive atmosphere!
We will be happy to guide you on what to see on the Spanish side of the Basque Country as we often go there ourselves. Hendaye is a city not to be missed during your vacations on the Basque coast.
To visit in the Basque Country :
Biarritz
Saint Jean de Luz
Socoa
Ciboure
Urrugne
Découvrez nos autres conseils de visites et activités pour vos vacances