JOIN THE BASQUES AT THE BASQUE CAKE FESTIVAL
Discover the Basque atmosphere and the traditions of a land full of history by going to the Basque Cake Festival half an hour away from Suhiberry Campsite. This unmissable event will take place on October 6 and 7, in Cambo-les-Bains, in the charming spa. Many activities are planned; there will be concerts, workshops, contests, walks and a festive meal on Sunday. As far as accommodation is concerned, you can opt for one of the weekend packages offered by the Tourist Office. Rates include lodging, access to the concerts, meals at the host's house, and Sunday lunch.
Do you know the Basque cake?
The Basque cake is the emblem of the Basque Country. It is called etxeko biskotxa in the local language. It is a round pastry, fragrant, soft but also crunchy, filled with a black cherry jam or custard. All restaurants in the southwest of France offer the cake on the menu; it can also be found in many pastry shops. According to tradition, it is served at the table on Sundays, during family meals. Every year, we celebrate the Basque cake. This year, it will be the 16th edition. The event is organized by the Tourist Office, the Town Hall of Cambo-les-Bains, the Association Eguzkia.
The different events on Saturday
From Saturday, a pre-programme is proposed during which walks, the sale of Basque cakes, workshops and a show will take place. From 9:15 a.m. to 12:30 p.m., there will be a discovery tour of Cambo-les-Bains; the outing is supervised by the city's Hiking Club. At 2 p.m., cakes will be sold at the Eguzkia stand, rue du Trinquet. From 1pm, to 3pm and 5pm, cake making workshops are offered. From 4:00 pm to 6:00 pm, there will be demonstrations of pelota and Basque strength.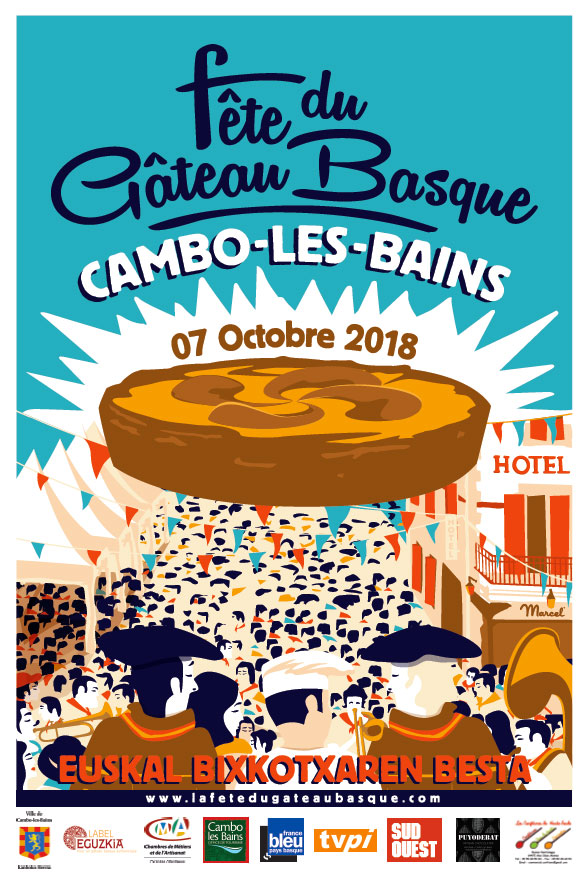 Découvrez nos autres conseils de visites et activités pour vos vacances